Get Perfect Results with These 10 Product Photography Essentials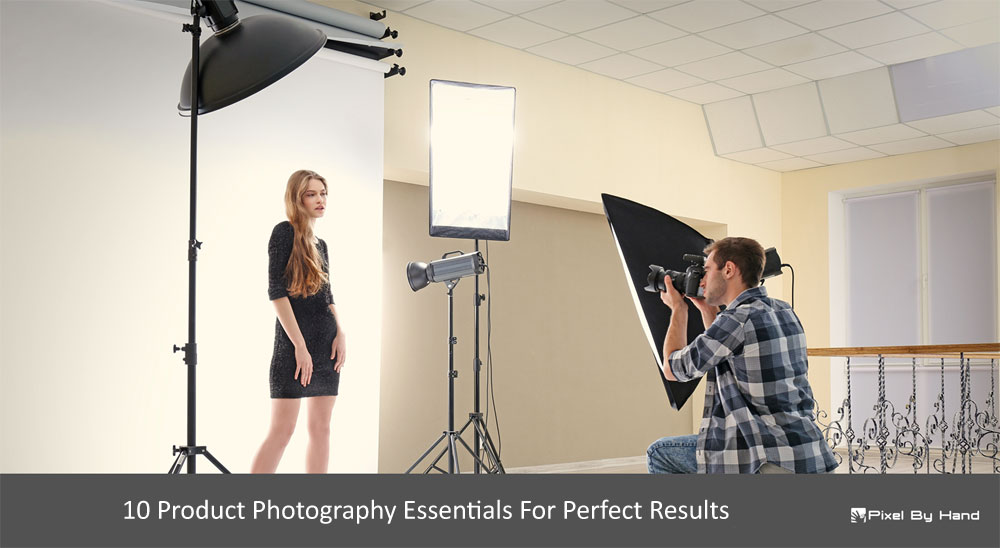 If you want to sell items online, then you need to make sure that you deliver the very best product images for each one of your product listings.
High-quality images allow your potential customers to see the product from up-close before they initiate a purchase. There is a huge amount of information and detail that you need to pack into your photography.
A visitor to your website does not have the luxury of picking up the product and looking at it from all angles.
Online buyers most of the time have unrealistic expectations, and these are mostly caused by a bad description and sub-par product photography.
If you want to generate more sales online, then it's vital that you implement our 10 product photography essentials.
They will help you create outstanding pictures for your online shop and increase the most vital aspect of your business – conversions.
So what are the product photography essentials that we should focus on?
1) Tell a story through color
2) Natural or artificial light
3) Should you use natural light
4) Can artificial light be the answer
5) Make sure you share your story through visuals
6) Use filter effects
7) Props & product styling
8) Learn to edit efficiently (or outsource)
9) Consider image resolution carefully
10) Show the details
Tell a story through colour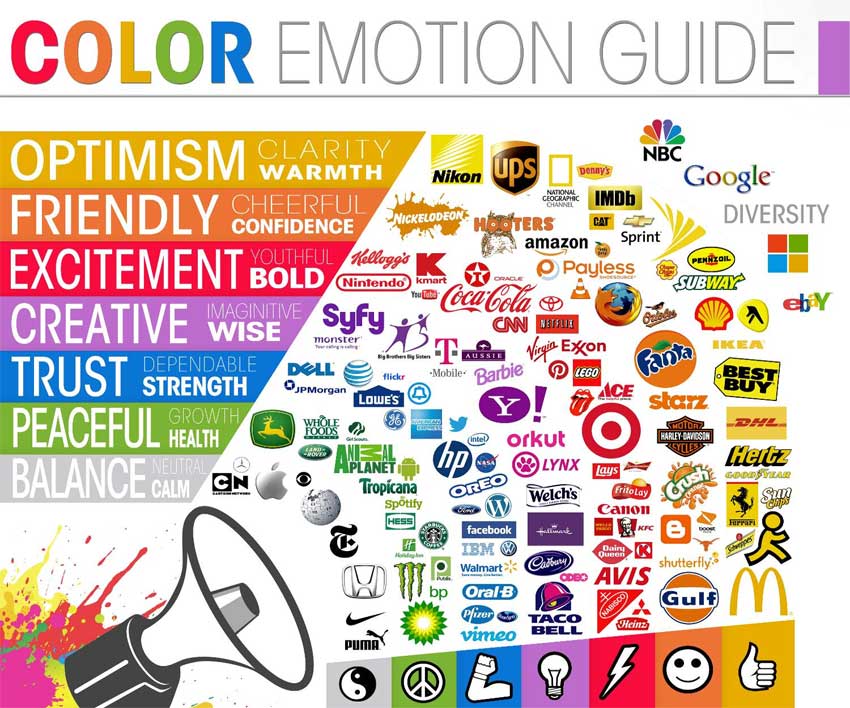 Source – thelogocompany.net
Your product photography has to bring a unique story. Each one of your images needs to communicate something to the audience, and this will bring with it a specific emotion. Use that to your advantage, and communicate the right ideas and emotions. The results can be dramatic.
A good idea here would be to use the color theory to your gain. The idea here is that you need that to create a sense of luxury, impulse, harmony or whatever mood you require. Depending on the colors you use, you can have a specific impact on the potential customer.
The influence of color can not be underestimated. You have to identify what each color does, and you have to use it to your own advantage. Take a look at the color emotion guide above, it will give you a clearer view on how color is used to a brands advantage.
Natural Or Artifical Light
What you need to keep in mind is that light sources can deliver different features to your final photography.
Natural light will always be better for product photography. But the reality is that most product photos won't get the ultimate results unless you start adding your own artificial lighting system.
Don't overdo it at first. Start with a single light and see if you can get the results you want. Increase the amount of lights to get the results you want. Remember that adding in a single light will bring shadows and reflections to the shot. Multiple light sources may be able to help you in this regard.
When you choose the lighting systems you want to use, you have to consider a few things.
Will the light accentuate the material and shapes of the product, or will it have a negative effect? You also have to think about setting the right mood. Visitors will associate your product in a specific way if you set the right mood and consistently repeat the same mood in all your shots. This in turn will create a 'feel' for your overall brand. And yes, all this can be created with some decent lighting.
Should You Use Natural Light?
Natural light offers a great way for you to showcase your products, but it works only if you want an organic, natural look.
There are downsides, such as a higher ISO setting, long exposure times, problems with the unwanted ambient lighting and so on. More importantly you lack the control you would want for product shots.
If you want to shoot multiple product images, you will not be able to get the consistency that you may need. You want to be consistent with the image tones and colors, and that's almost impossible if you use only natural light.
Can Artificial Light Be The Answer?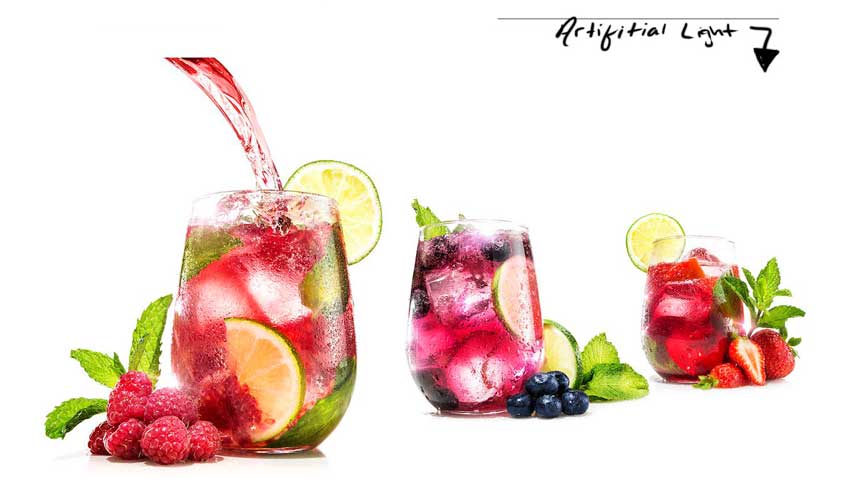 The primary advantage that comes from using artificial light is that you get a very consistent output. All images will have the same tone, colour palette, saturation and features.
They won't require any camera changes, so they can also be shot very fast. This is especially helpful in a conceptual or styled setting. It works to your advantage, and it can pay off extremely well in the end.
A big plus is that you have the right control over your product photography. You have multiple techniques you can use to shape the light as you see fit.
There are some downsides to artificial lighting. The overall costs can be very high especially if you go for the high-end equipment. You also need to have quite a lot of space, especially if you have a complex lighting setup.
You won't be able to create perfect shots right from the beginning. It will take a lot of time and effort to test out all functions and options. 
Make Sure That You Share A Story Through Visuals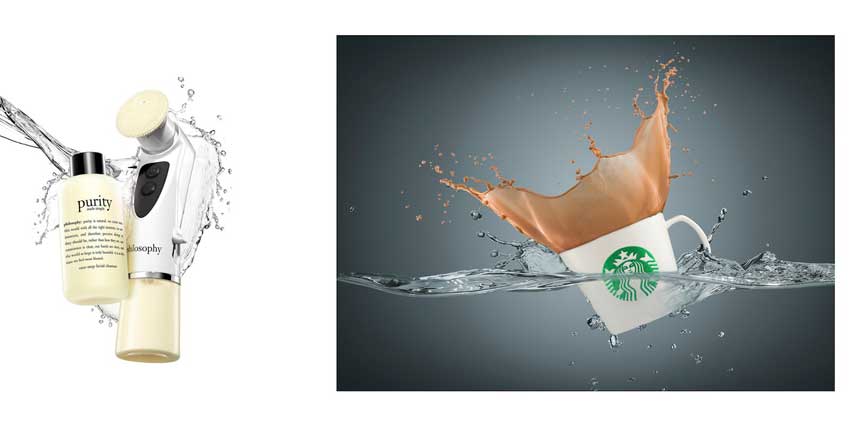 You should always make sure that your product photography isn't stale. If it can it has to tell a story; you need to create multiple pictures that connect with one another and showcase specific ideas that your customers will connect with.
Every texture and feature will showcase something and you need to take all of that into consideration. The idea is to convey the smell, feel and sound of that product via images. It's not going to be easy, but with the right reflections and focus on textures and colors you will be able to do it.
If you want to start with a distinct approach, you should focus on the brand first and the message last. It's important to showcase the details of each product and connect each picture with one another so you can get the best possible outcome in terms of brand and site identity.
The image above on the left is an example of splash being used to speak to the cleansing nature of the product. The image on the right is an example of someone using splash techniques just because they can.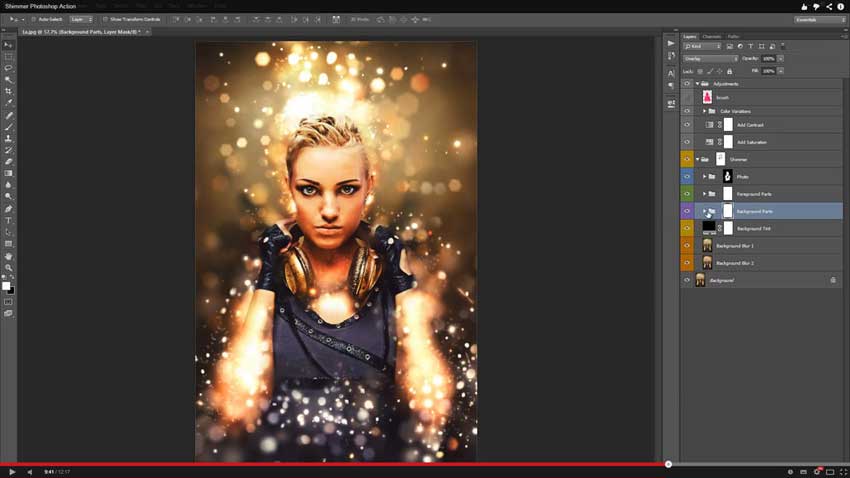 Using filter effects for product photography is an option.
There are a number of options that can bring in create some nice visuals. The problem cab be that they may not be suitable for your own brand identity. So, you need to be very careful how you incorporate them, if at all.
Brand consistency and color balance need to be taken into account before you start messing with effects. Sometimes these work, other times they won't.
Props And Product Styling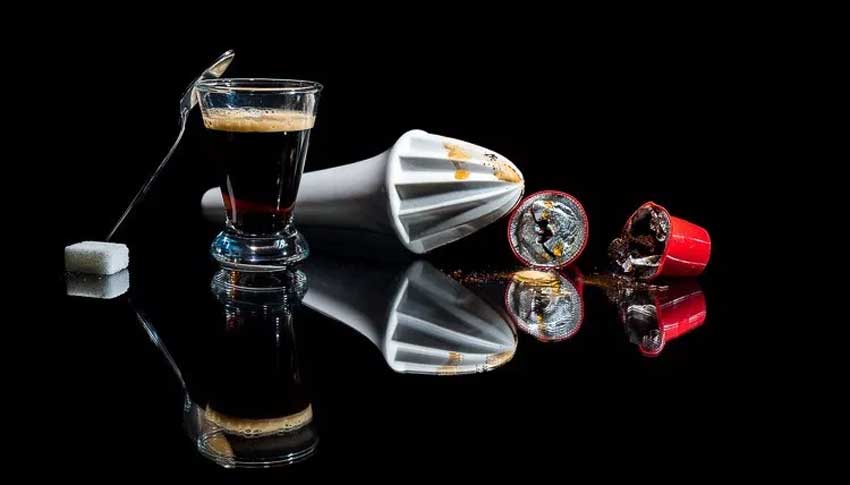 Source: digital-photography-school.com
You do need a skillful eye and good attention to detail if you want to incorporate props and styling into your shots. You also need a lot of patience to make it a success. Here are some ideas to focus on:
Are the brand logos and labels legible? You may want to showcase your brand, if so you need to make these standout.
Use the right surface. Sometimes a plain surface can do wonders for your product. You can also opt for a more complex surface if you believe that the product can stand out this way.
Make sure that your props make your product stand out. It shouldn't be the other way around.
In most cases, less is more. Don't include dozens of props just for the sake of using them. You will be able to achieve great results with some nice props. But you should never add them to the detriment of the main focus – your products.
Learn How To Edit Efficiently (Or Outsource)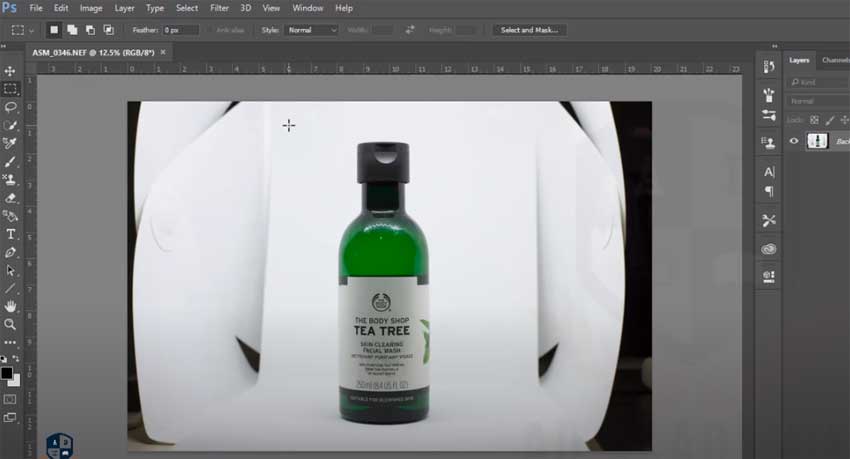 You should try to minimize the amount of editing that is required on you product shots. Editing using software can be very time consuming. It can cause bottlenecks in the process of getting your products onto your website. Editing is however an essential part of the process and should not be skipped.
Editing skills improve with experience. Together with efficiency and speed.
It can take a little while to identify the right editing tricks that work for your products.
The alternative is that you outsource the photo editing work..
Consider Image Resolution Carefully

Image resolution is essentially a trade off when it comes to product photography for a website.
You want your products to look amazing right? This means the resolution will be higher on your images. High resolution images take longer to load on your web pages. Potential customers will not wait for your pages to load a long time, they will click away from your site.
So balance is the key. Test, test and test again! What is the sweet spot between page load and image look?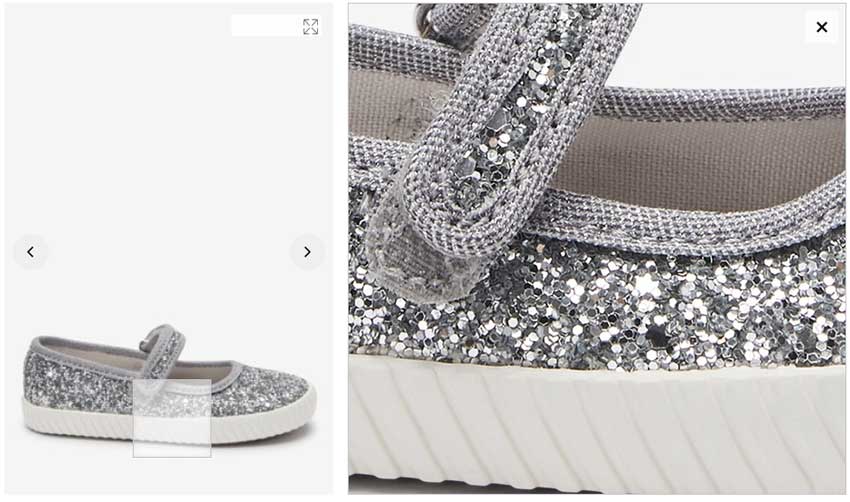 In terms of product imagery we are always at a disadvantage being online compared to a traditional bricks and mortar business. One way we can claw back so feel for our products is through zoom.
Get up close and personal with your products. Zoom into the fine details of the materials. Zoom into the unique features of the product. Zoom into the color tones and textures.
Be creative in how you show the fine details, think how you can show more of your product. Browse the internet to see how others use detailed product photography on their website to brainstorm ideas.
About Pixelbyhand
We are a professional product photo editing service. We work with businesses across the globe perfecting their images for eCommerce websites.
If you run an online business and would like to improve on your current product images then complete the simple form below. (We will only use your email to contact you directly regarding any inquiry you make. We promise to never send you spam or any unwanted mail).
LET'S GET STARTED TODAY. IT'S FREE!
Send us a selection of your current images and we will show you how we can improve them.
All our sample images are completely Free.