Pixel By Hand Blog
Information focused on eCommerce product image editing & post-production
Best eCommerce Platform for Small Businesses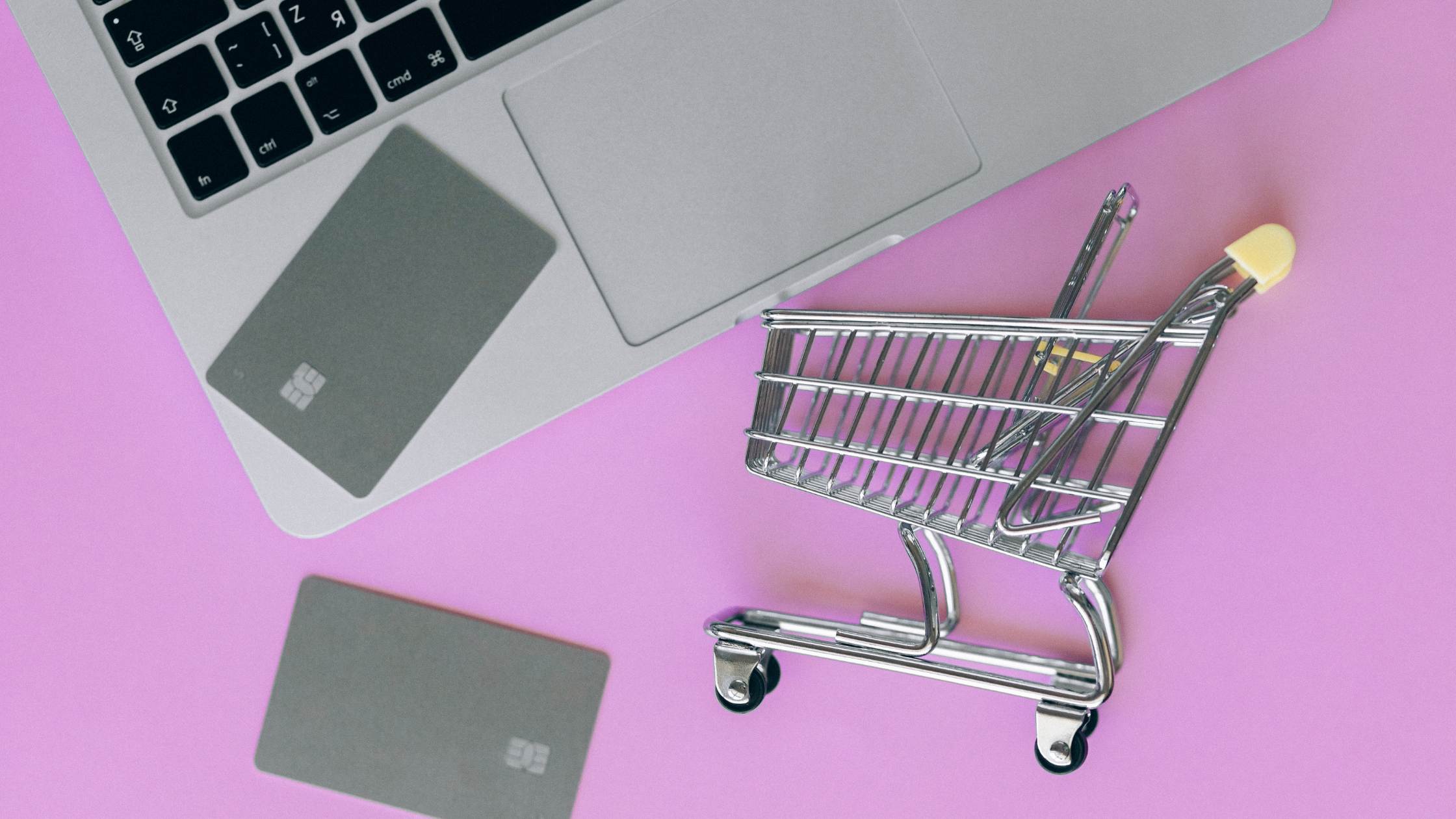 If you want your small retail business to succeed in 2023, you need to invest in your online presence. Thousands of people are searching for businesses and products like yours every day. By investing in your eCommerce website, you will help your business grow and earn more conversions.
An eCommerce platform is a software that helps businesses sell their products and services online. It provides a means for businesses to create an online store, manage inventory, process payments, and more. By choosing the best eCommerce platform for your small business, you could see significant sales increases and have your goals within reach. This should be one of the first steps in your small business eCommerce blueprint.
With an overwhelming number of choices, it is difficult to decide which platform is best for your business. In this guide, we have compiled a list of the best eCommerce platforms for small businesses in 2023.
Let's transform your product images!
Get started with a Free Trial of our product photo retouching service or if you have any questions simply click Ask A Question to get started.
What's the Best eCommerce Platform for Small Businesses?
The following are the best eCommerce platforms for small businesses in 2023:
Shopify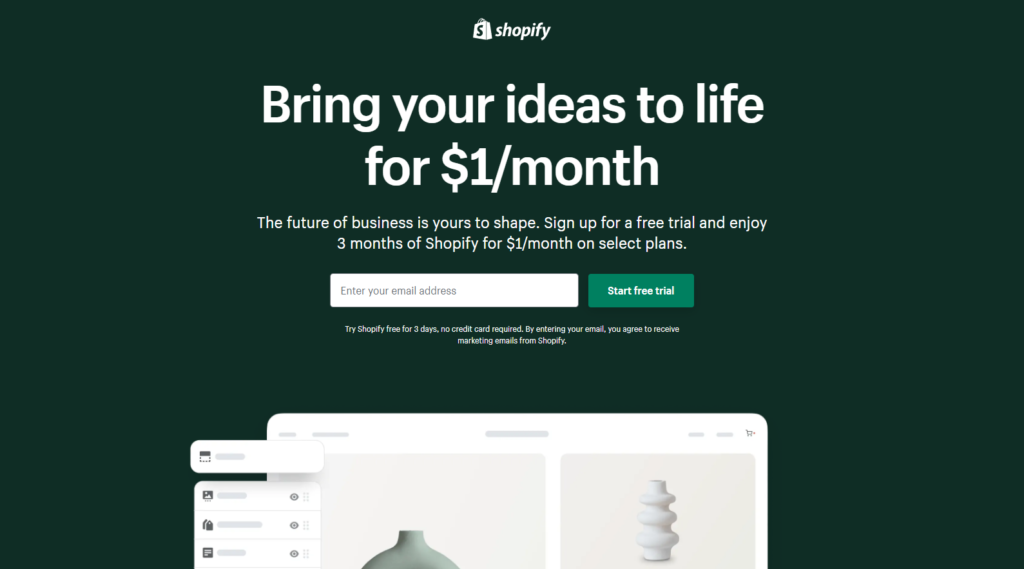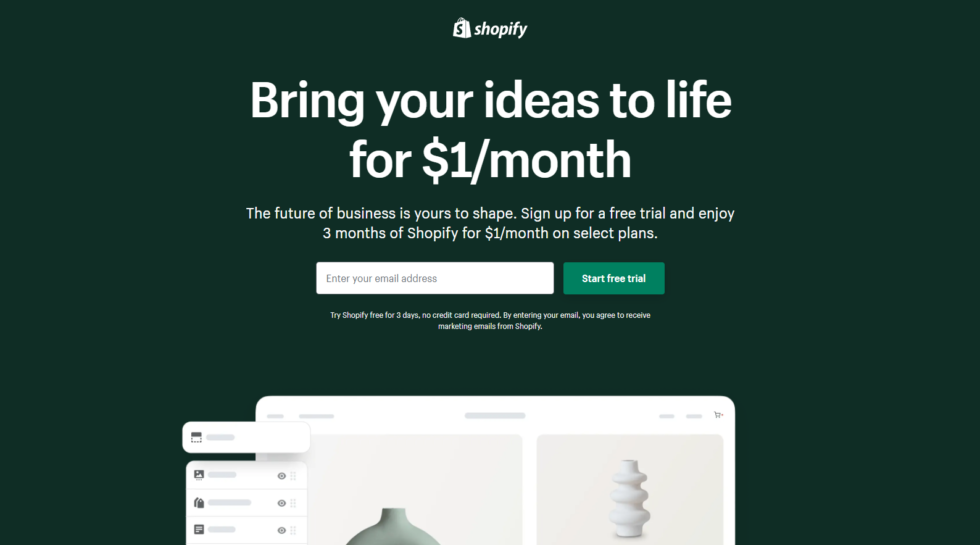 Shopify is a popular eCommerce platform that helps businesses sell online. It offers a customizable platform, an easy-to-use checkout process, and a wide range of features. Shopify also has a large app store with over 2,000 apps to help businesses extend the functionality of their stores.
Shopify is the best eCommerce platform for small businesses because it is comprehensive and easy to use. You can also design your store using one of more than 100 paid or free themes without any code skills necessary.
Most industries benefiting from Shopify as an eCommerce platform are fashion and apparel, health and beauty, electronics and gadgets, and furniture. This is because Shopify offers comprehensive eCommerce features, an easy-to-use checkout process, and a wide range of customization options.
With this platform, you're not only getting an eCommerce solution for your small business—you're also getting a host of other features to help streamline your company as a whole. Shopify offers a best-in-class suite of business tools to help you build a complete business command center. Shop Pay has low online transaction fees, Shopify POS is available for in-person sales, and Shopify Fulfillment can help you with shipping orders.
Shopify offers affordable shipping rates from top carriers, including USPS, UPS, and DHL Express. Plus, there's no limit to how much traffic (unlimited bandwidth and storage) or sales your site can get before your prices increase. This is very helpful, especially during the holiday seasons, wherein most businesses experience a significant increase in sales volume.
Shopify also has a free email marketing service, abandoned cart recovery, and search engine optimization (SEO), among other tools for business owners. In addition, there is an extensive library of over 6,000 third-party apps that can further extend your website's capabilities.
When it comes to support, Shopify offers 24/7 live chat, email, and phone support. There is also a huge online knowledge base with step-by-step guides and tutorials to help you get started.
WooCommerce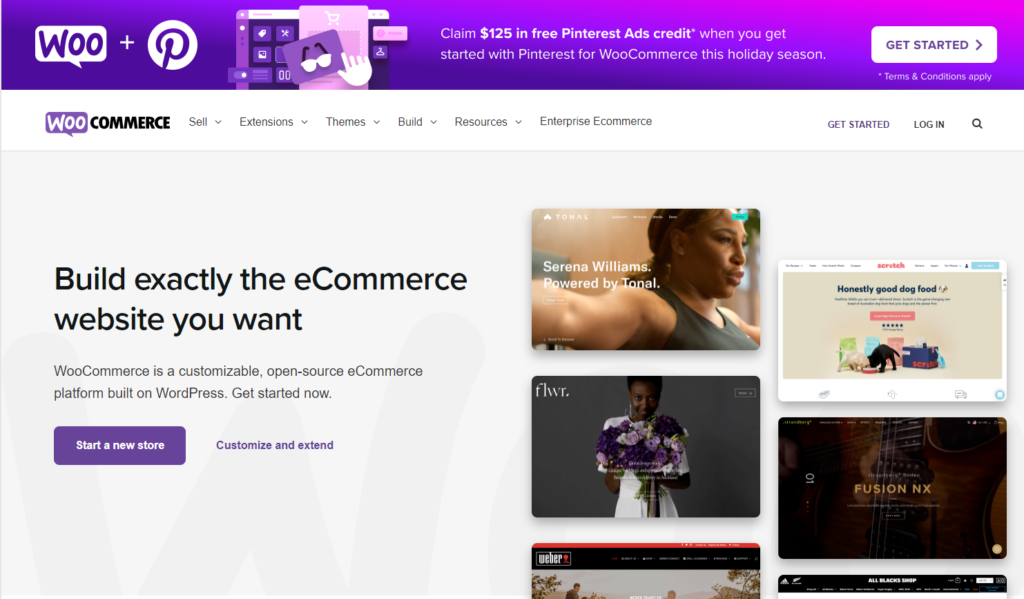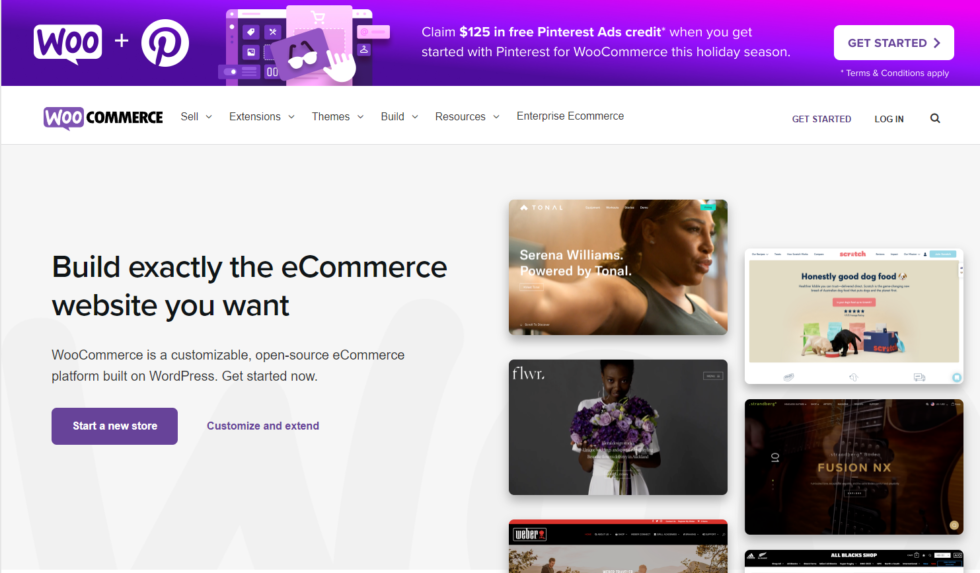 If you're looking to sell goods through your WordPress site, WooCommerce is the answer. What began as a blogging platform has now become a fully-fledged website builder, and adding WooCommerce will give you eCommerce capabilities.
One of the reasons WooCommerce is so popular is because it's open source and easily customizable. WooCommerce offers a lot of flexibility, with over 6,000 third-party integrations. This allows you to expand the functionality of your store and tailor it to your specific needs.
The WooCommerce plug-in is a free business platform, which makes it perfect for those working with a budget. While some integrations and plug-ins are free, you may eventually have to pay for more premium tools, which can get expensive if you're not careful.
WooCommerce is a great choice for small businesses looking to sell products online and needing a customizable platform. It's also perfect for businesses that want to use WordPress as their website builder and don't need the comprehensive features of Shopify.
Top industries benefiting from WooCommerce are arts and crafts, food and beverage, beauty and health, and sports and outdoors. But then again, as WooCommerce is flexible, it can work with any type of business.
In terms of support, WooCommerce offers extensive documentation, live chat support around the clock, and community forums. While the latter two are great for getting quick answers to your questions, the documentation page is very comprehensive and will help you get started with setting up your store.
Squarespace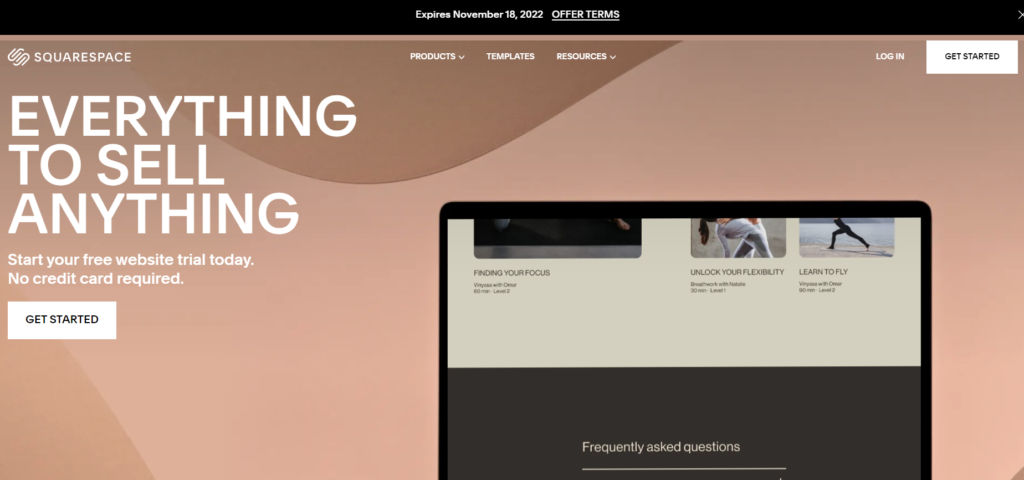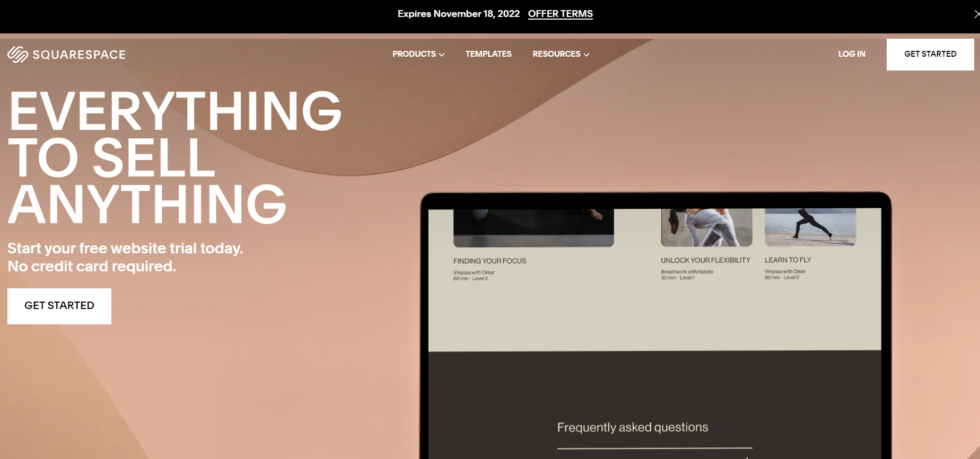 Squarespace is another great eCommerce website builder for small businesses because of its easy-to-use interface. You can create a fully-functioning online store without technical experience using their simple drag-and-drop tools and reliable functionality.
Squarespace originally launched as a website builder, not necessarily an eCommerce platform; however, it has since added features to accommodate online sellers. While Squarespace is typically used for service-based businesses, it can also benefit product sellers.
The top features offered by Squarespace are tight scheduling and calendar integrations, email marketing, social media integrations, and embeddable maps to help people locate your physical store (if you have one). If you have a subscription-based business, this platform also has features for recurring billing.
Squarespace is the perfect platform for photographers, artists, and anyone else who wants their website to look as good as the content they're sharing online. Squarespace's design capabilities are unrivaled.
While Squarespace's designs are top-notch, they are also inflexible. You can't make too many changes to the templates without breaking the code, which is why Squarespace may not be ideal for businesses that want a lot of customization options.
Another downside to Squarespace is that it doesn't have as many integrations and add-ons as other eCommerce platforms. However, it does integrate with G Suite, which can be helpful for businesses that want to use Google's productivity tools.
Support is important, especially when it comes to website design and hosting. Squarespace knows this, which is why they offer live chat, email support, and a comprehensive knowledge base for their customers. The company also has an active community forum where users can ask questions and get answers from Squarespace experts.
Wix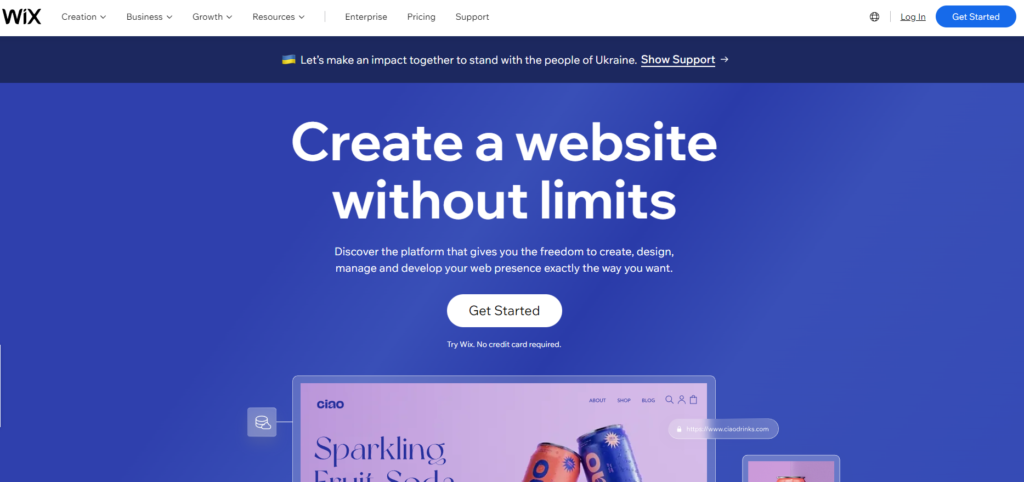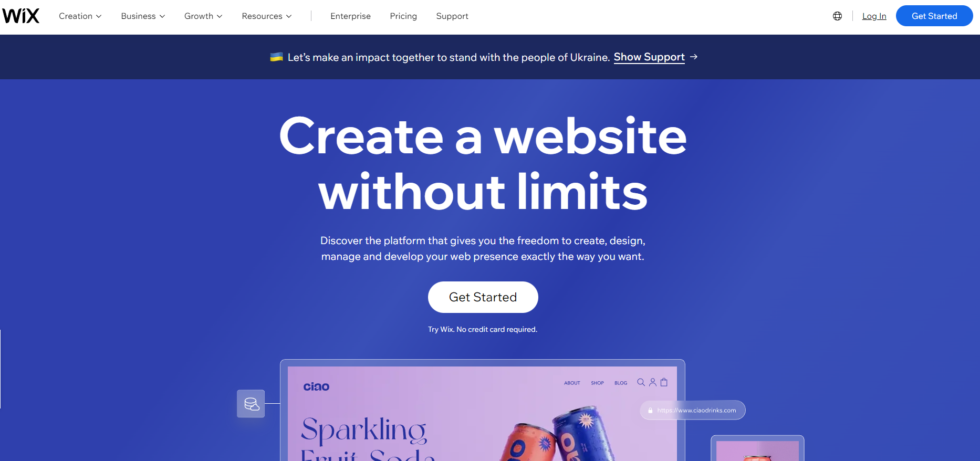 Wix is perfect for those who want a user-friendly website builder with eCommerce features. With a paid plan, you can access eCommerce features like online payments, order tracking, multi-channel selling, and abandoned cart campaigns.
Wix is an ideal platform for small businesses, creatives, and beginners. It's packed with features, great SEO tools, and hundreds of apps. Wix provides you with 800+ professional and customizable website templates. No tech skills? No problem! Wix makes it easy for anyone to create a beautiful website.
With more than 500 templates available, you are sure to find the perfect design for your storefront. Wix makes it easy to create an online store through its drag-and-drop interface. You can also manipulate the aesthetics of your page to better reflect your brand. Lastly, Wix facilitates billing subscriptions and shipping orders from third parties.
The only downside to Wix is that it can be expensive, especially if you need to use premium features and apps. Additionally, while Wix gives you much creative freedom, it doesn't offer as much flexibility as other website builders.
Wix support is available through email, phone, and live chat. The company also has an extensive knowledge base with articles, video tutorials, and FAQs.
BigCommerce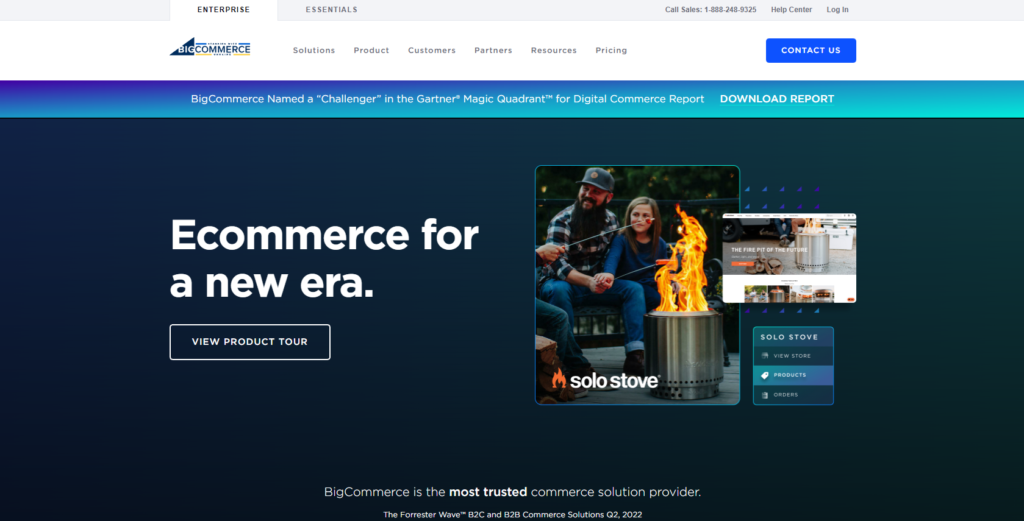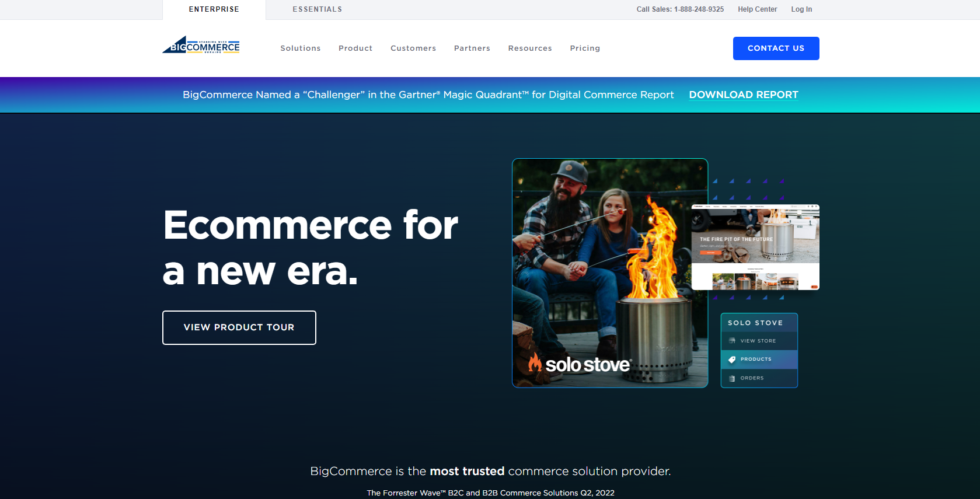 BigCommerce is an eCommerce platform with all the features and functions you need to run a successful online store. While BigCommerce may be daunting for some small businesses, it is the best platform if you have growth plans or access to technical resources.
BigCommerce is most beneficial for larger businesses that require specific, customizable solutions. Most companies that are this size have the budget and access to bring on better resources, which is something you'll need if you're hoping to build a successful store with BigCommerce.
Not only does BigCommerce have features like international commerce and SEO, but you can also do multichannel sales on social media sites and third-party marketplaces. In addition, it's compatible with numerous payment options and provides decently priced (and sometimes free) payment processing rates.
BigCommerce is popular among small businesses and new online shop owners because of its affordable pricing options and easy-to-use interface. The Standard plan starts at $29.95 per month, includes plenty of key features, and does not charge transaction fees. Their support team is available 24/7 via phone, live chat, and email. You can also find a wealth of articles and tutorials in their knowledge base.
Square Online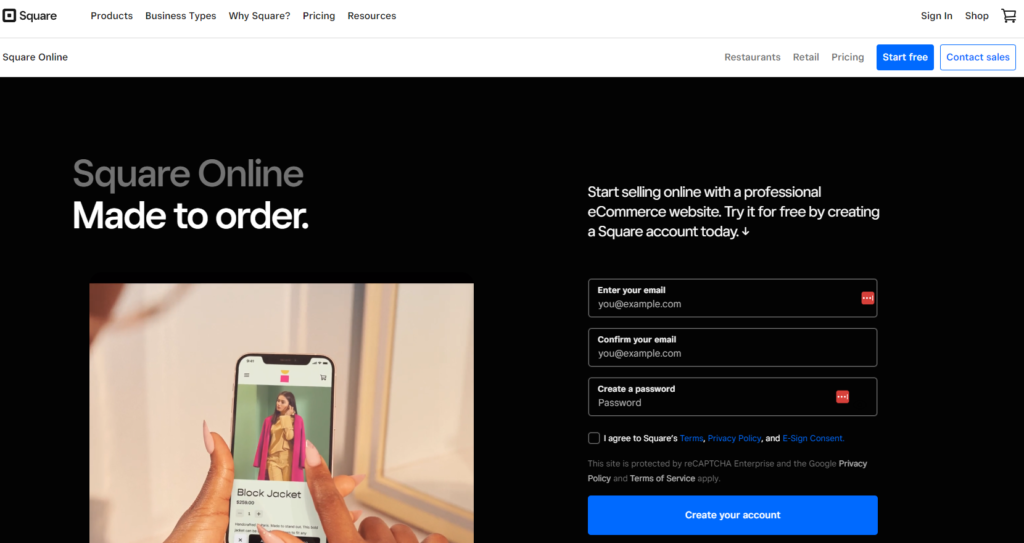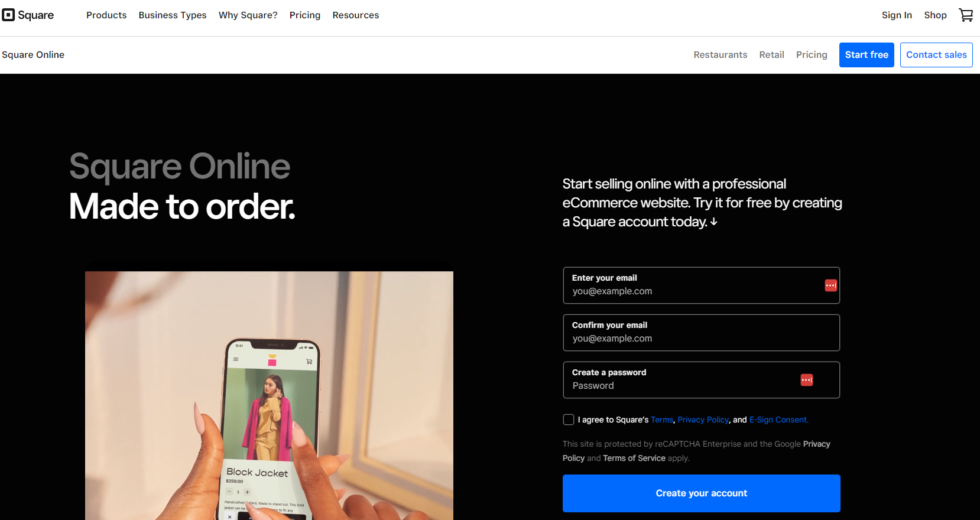 Square originally started with its POS device for retailers, but it has since added other business management tools to its product line. One of those is Square Online. With tight integrations with other Square products, Square Online also works well with mobile wallets, Afterpay, and more.
When you create an online store with Square, you can begin with a template designed for retail businesses, restaurants, non-profits, and more. Square Online offers payment processing at 0.9% plus 30¢ per transaction.
Square Online is ideal for brick-and-mortar retailers that need basic online store functionality. The platform is also great for restaurants that want to take orders online but don't need a lot of bells and whistles. If you need more customization or advanced features, you may want to consider another platform.
What makes Square Online unique is its integrations with other Square products. For example, if you have a POS system from Square, you can automatically update your inventory levels on your online store. Additionally, if you use Square for Appointments, you can embed a booking widget directly on your website.
Square offers email and live chat support 24/7. You can also find helpful guides and articles in their knowledge base.
Weebly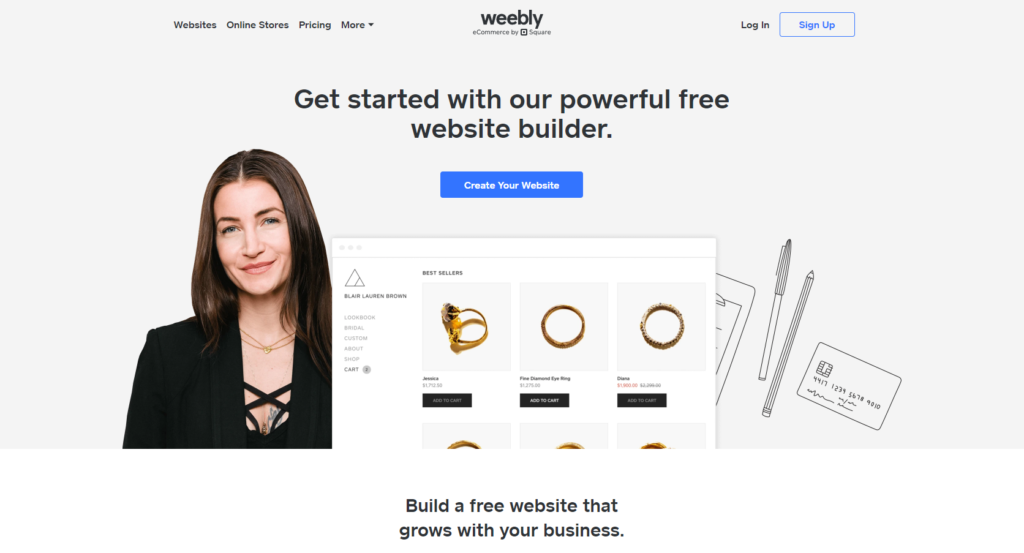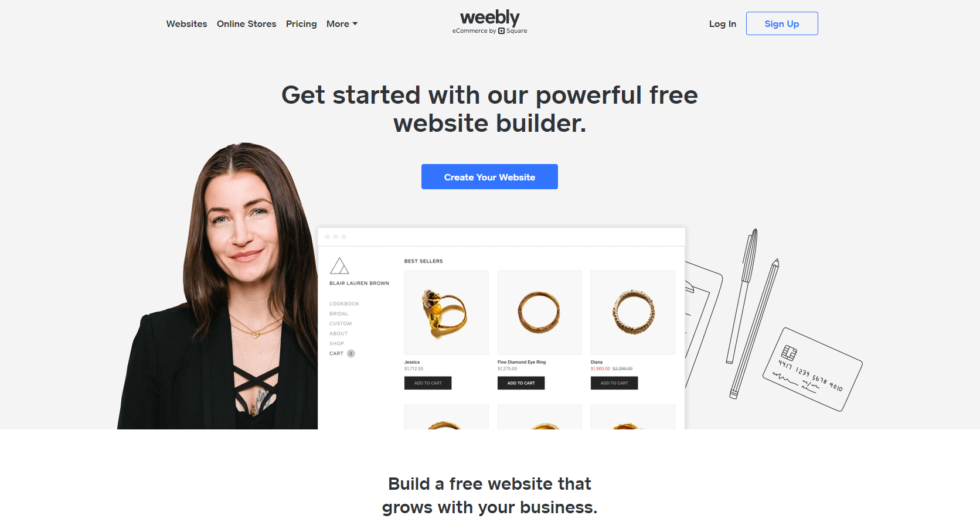 Weebly is powered by Square, so it has integrations with other small business platforms by Square. These include a fully secure online shopping cart and inventory management system.
Weebly's eCommerce platform for small businesses has product search with filters, optimized mobile checkout, order management and processing, and flexible shipping options. This is the ideal eCommerce platform for start-up businesses because it is simple and has all the basic features you need to get started.
While there are many templates to choose from when building your eCommerce site, there aren't many advanced features. This can be limiting as your business grows. For example, if you want to add customer testimonials or product reviews, you'll need to use a third-party app.
Weebly offers email and live chat support 24/7. You can also find helpful guides and articles in their knowledge base.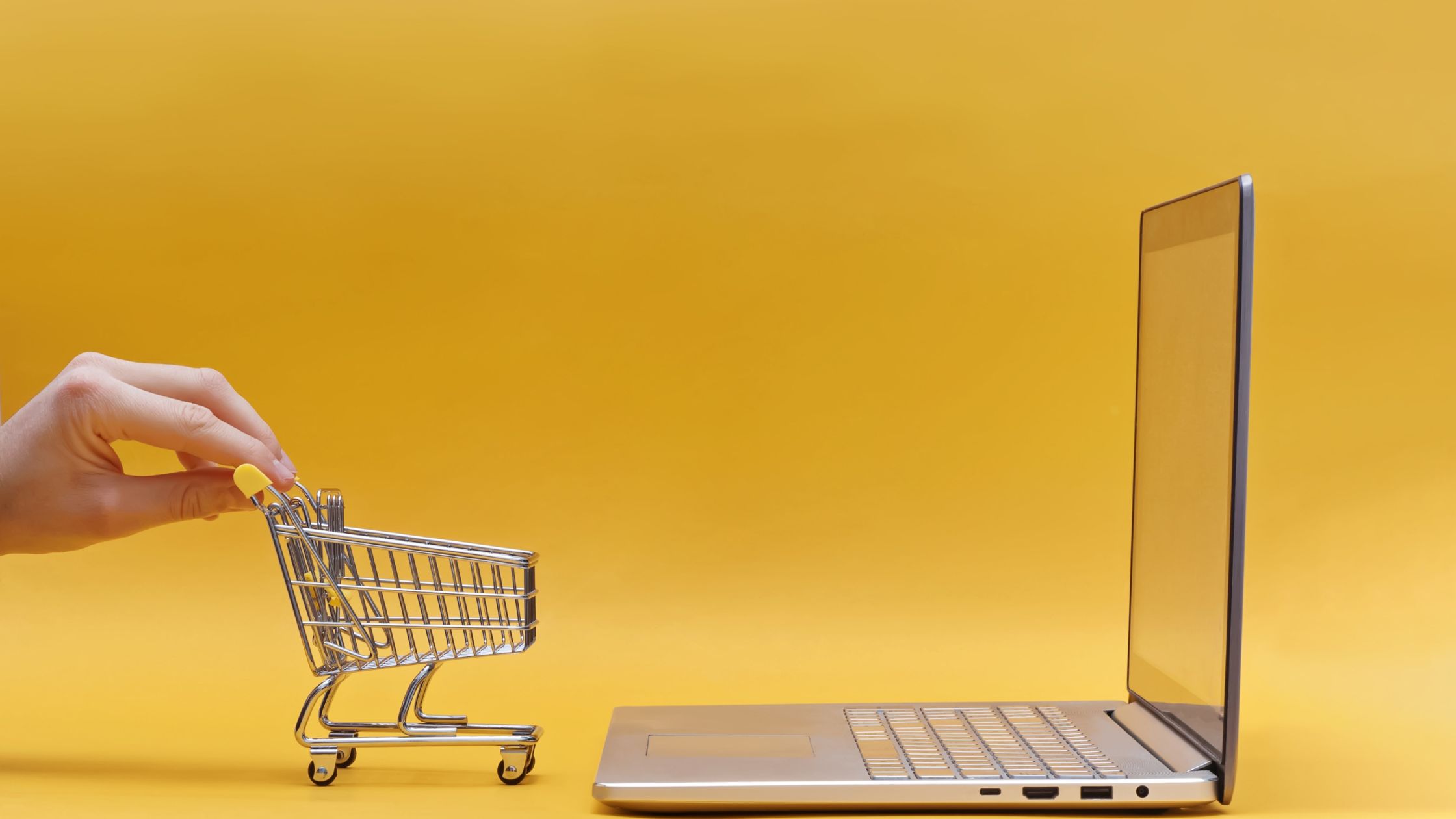 How to Choose the Best Ecommerce Platform for Small Business
Ecommerce platforms come in all shapes and sizes. Some are better suited for large companies, while others fit small startups perfectly. And depending on your budget, you can find one that's either cheap or expensive. As you look for the ideal eCommerce platform to advance your business, consider these key features.
The size of your business.
Some of the platform's features are free, but there may be startup costs for others.
Are you a brand-new business or an established one?
Whether your company plans to have both physical and online stores
The types of products your store offers
The people who you want to sell your product or service to
Your sales and marketing budget
To what extent do you want to manage the technical side?
What's at the top of your priority list? If you're wavering on whether pricing or creative control is more important, keep in mind that some features may be non-negotiable. Also, consider if a mobile app would be handy for managing your business while away from a computer. Lastly, think about how much control you want over your website.
To find the best eCommerce platform for your business, list all the features you need. Then, add a second list of any optional features you'd like to have. As you read through this list of different solutions, narrow down your options based on which platforms offer the features you need. And don't forget to read reviews!
Pixel by Hand Product Photo Editing Services
Your product photography can make or break your eCommerce website's success. As humans are visual creatures, you want your product images to be high quality, represent your brand well, and convert browsers into buyers. This is where our product photo editing services come in!
We can help you take your product photography to the next level with our creative eCommerce product photo editors. For years, we've worked with hundreds of eCommerce brands who trust us to make their products look amazing. We have the experience and skills to help you take your product photography to new heights!
From basic color correction to advanced retouching and everything in between, you can count on Pixel by Hand to make your product photos look their best. Say Hi to us in the chatbox below and get started on your FREE Trial!
Let's transform your product images!
Get started with a Free Trial of our product photo retouching service or if you have any questions simply click Ask A Question to get started.
Let's Get Started Today. It's Free!
Send us a selection of your current images and we will show you how we can improve them.
All our sample images are completely Free.
SEND YOUR SAMPLE IMAGES TO EDIT FREE OF CHARGE
✔FREE TRIAL